We publish a report about reasons to go to Estonia and Baltic Film and Media School there.
I could tell you in general, why it is practical and enjoyable to study in Tallinn University's school called Baltic Film and Media School (BFM), but that stays too far from me. So I give you my own example.
By Mariell Raisma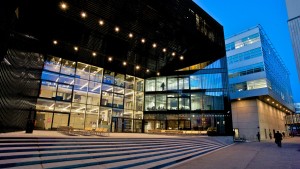 1. Very modern and professional equipment. BFM is the most modern film and media school in Europe, which includes everything necessary for lectures and practical work: besides all the classical rooms for university, there is a film pavilion, television studio, makeup and costume rooms, a sound studio, an editing centre – sounds awesome, right? But there is even more – a cinema with 105 seats. When I was doing my BA in journalism, we were introduced to the world of editing with Mac. This was very very fun because all of us had a great computer to work with, as well as a possibility to use it for your own projects, because BFM provides students with free shooting and post-production equipment, studio space and production support for their creative works.
On the other hand, as I teach journalism in the 32nd Highschool, it was a very educating to visit BFM and have a great experience of watching film and crossmedia projects with my 12-13-year-olds. The emotions that the 6 grade student shared after watching a movie about a deaf small boy make you speechless. In that film, we saw the world through the boy's ears. We could see, how he visited a doctor who was gesturing to his father, while he himself couldn't hear a thing. We could see, how he used glasses filled with water to "see" the sound when he turned the music level very high and the bass started having an impact on the water in the glasses – all the glasses were making syncronical circles in the water at regular intervals. It was his way to feel the world. So when that young person saw this film, it shaped him as a human being. Maybe the student would feel so powerful and grateful for being a b l e to hear. As it is a very different experience to watch a world on a screen without a sound. Or maybe the student would realize that each of us see the world in a differently from everyone else. So how could we live in a way that would respect all the different manners of seeing the world? Maybe one wants to understand and visualize the way, how different people see their lives, and starts seeing people in a new light: how does he feel right now? What can I do to make the other person feel better? In either way, being part of these visual worlds change us. They touch us. They make us feel.
To create this kind of powerful story takes many hours in the editing room, numerous sleepless nights because of the feeling that one scene is not right, or that something needs to be changed; as well as a reliable team to work with. But it requires presumes that there are professional cameras, actors, rooms available. That is why its very important to have a modern equipment with great quality in the university to practice with. So the students could realize their ideas. To make their message clear enough, powerful enough, in order to change this 12-year-old boy's life. To make him a better man in the future.
2. Very international. There are several programmes in English in BFM: Media, Crossmedia in Film and Television in Bachelor and Communication Management and Audiovisual Media: Television/Documentary Film in Masters. Thus, there are many students from different countries to study together with. True, I am studying with Estonian students as my studies are in Estonian. Nevertheless, I know how important it is to work with people from different cultures.
Three years ago I participated in a media workshop in Vienna, Austria which focused on using radio as a tool for social development. There I met Vicky Ntetema, a journalist from Tanzania. A woman with a strong attitude and with a sparkle in the eye. In Tanzania, there is a belief among witch doctors that potions mixed with albino body parts and blood will bring good fortune. In November 2007 she became curious about a string of albino murders and the involvement of witchdoctors, who hold powerful positions in traditional African society. So she started to investigate the murders of albinos that take place in Tanzania for the purpose of harvesting their arms, legs, hair and blood. Even though she was scared for her life, she never gave up and unveiled information that have made people aware about this reality. Thanks for her fearless reporting and dedication, she was the recipient of the 2010 Courage in Journalism Award from the International Women's Media Foundation. It amazed me, how dedicated she was to her ideas and changes she wanted to see in the world. It was incredible, how much she was willing to give up in order to protect something she believed in. Value-based life. It is s o rare nowadays. Yet so longed-for.
These stories change us. Meeting with the people, who carry the same values as we do, are inspiring us to live according to our values and protect the things we believe in, no matter the price. They are like reminders that keep saying that everything is possible.
But I wouldn't have had that an opportunity to apply to this program if I hadn't enrolled in my studies.
3. Learning by doing. Studies in BFM are focused on professional hands-on training, designed for international careers in the world's rapidly growing audiovisual and media industry. It values internships and collaborative projects, which will give an insight to the industry, while still being at the university.
Three years ago, while studying for my BA in journalism, I made my first internship in Vikerraadio, Estonia's most listened radio station, where I was writing, sometimes longer, sometimes shorter, news stories. As I like travelling, I tried to find opportunites to make stories from abroad as well. I went to Berlin, Germany to attend another media training, and took a radio microphone with me in order to make interviews. As I happened to talk to one of my colleagues in Facebook who asked me, whether I can also cover the Estonian Film and Music Days in Berlin. It was my last day in Berlin. Of course, I said yes. I called to Harry Liivrand, Estonia's cultural attaché in Berlin and we made an appointment for that day. He called me back soon and told that our president – by now, a former president – Toomas-Hendrik Ilves was there on a visit, and – more than that –, I ended up making an interview with him as well. I was surprised how nervous I was when I said the first sentence of the interview and learned so much about myself during that talk. And I was so proud of myself to get those stories, that I made the decision to apply to this media training and say "yes" to these opportunities that followed.
Competence in journalism does not come from just reading theory. We had lectures with Mart Raudsaar, the managing director of Estonian Newspaper Association and lecturer, who sent the first year students "to the field": they chose the topic in the morning and by the evening the news had to be ready. Just like in real editorial board.
And even though it sometimes seemed impossible to make the deadline, everybody grew from experience in the end and found assurance to the feeling, whether they like this kind of lifestyle or not.
This is the kind of mentality that I love. I also let my highschool students to write stories on their own, so that they can discover their strenghts and weaknesses, develop the courage to speak up, learn to ask questions and understand media more.
To sum up, the most important thing while doing what you love is to be open-minded and ready for opportunities that life gives you. You are what you do. There might be unique opportunities waiting for you when studying in BFM. Make what you can to catch them.
Mariell Raisma, Tallinn University Master student of Communications, focusing on Media Communications