The Annual Congress 2023 was held in Ljubljana, Slovenia, from the 13th until the 18th of April. The topic of the congress was safety in journalism.
This topic is very relevant and, unfortunately, also extremely current nowadays in the world of journalism. We addressed safety and on the other hand dangers and challenges in journalism. That is why we titled this event "The Fearless Press" with an additional slogan: "Journalists unfettered, reporting safe and better".
Journalists face a range of risks and dangers while carrying out their work, especially in conflict zones, authoritarian regimes, and areas where there is social unrest. They are exposed to physical violence, political and economic pressures, threats, harassment, detention, and even assassination. At the Annual Congress we tackled issues of safety in journalism from different perspectives. We wanted to educate young journalists about the dangers they may face and give them knowledge on how to protect themselves and stay safe while reporting.
We hosted renowned journalists
Anuška Delić – a Slovenian investigative journalist and founder and editor-in-chief of the investigative journalism platform Oštro – talked to us about digital safety that all journalists should pay attention to.
We had a Roundtable on War Reporting with Manica Janežič Ambrožič, a journalist at national television RTV Slovenija, Klara Širovnik, young journalist of the Slovenian daily newspaper Večer, and Uroš Škerl, a journalist of the daily newspaper Dnevnik. They shared their insights on reporting from Ukraine.
The NBC Deputy Director for Europe Andy Eckardt had a lesson on Safety in Journalism. The National Broadcasting Company (NBC) is an American English-language commercial broadcast television and radio network.
Our participants had a lecture by dr. Jernej Amon Prodnik, Assistant Professor at the Faculty of Social Sciences, University of Ljubljana. He talked about the monitoring practices in a digital society.
Anne Leppäjärvi presented the European Journalism Training Association (EJTA). Anne is the Journalism Degree Director at Haaga-Helia University of Applied Sciences in Finland.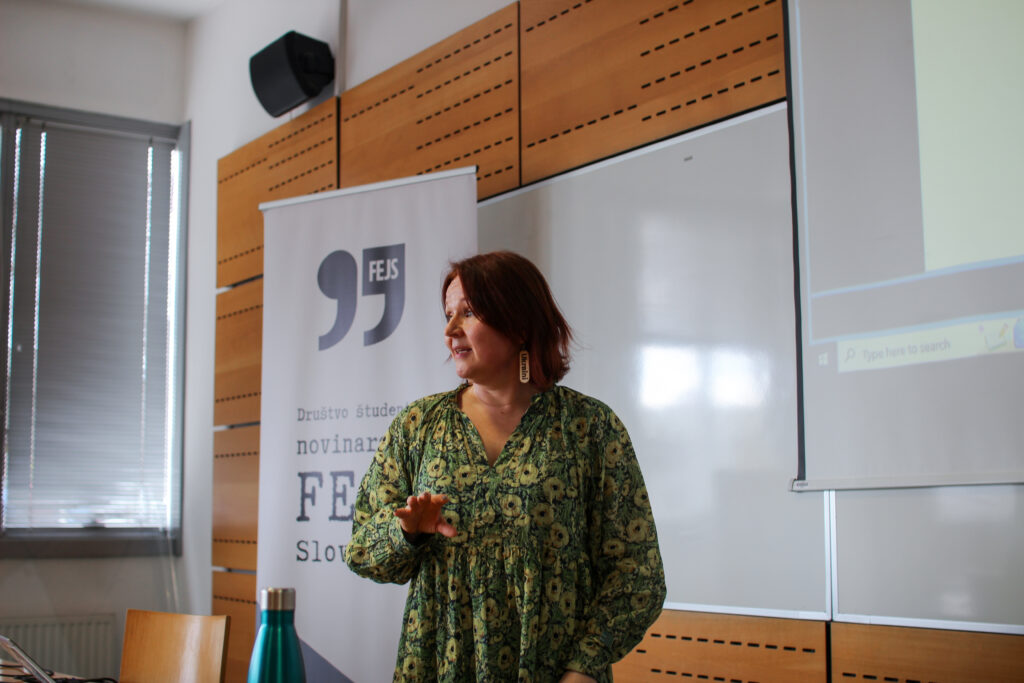 Workshops: audio, photo, cyber security
Saturday was Workshop day. Our participants were divided into three workshops where they were taught by experts. On the last day they presented their projects.
The first workshop was about innovative forms of audio storytelling. It was held by Matej Praprotnik, a member of the development team of Radio Slovenia, pioneer of Slovenian podcasts and innovative audio.
The second workshop was on visual storytelling by Luka Dakskobler, documentary photographer and photojournalist. His work is primarily focused on in-depth stories and reportage.
The third was a lecture on cyber security for journalists by Domen Savič. They discussed secure communication channels, the protection of documents and work materials. They also tested themselves using virtual reality to try imaginary scenarios that could happen in real life.
Audio

Visual

Cyber
Tours, trips and all the fun
We took a tour of the largest media house in Slovenia – the public radio and television RTV Slovenija. There we also chatted with Manica Janežič Ambrožič about difficulties that the journalists at RTV Slovenija face.
Sunday was reserved for a trip to Bled and Vintgar Gorge, beautiful natural sights in Slovenia. At Lake Bled we met up with a local pletna boat rower. Pletna is a traditional Slovenian flat boat that took us to the middle of the lake – Bled Island. Our participants tried the traditional cream cake – kremšnita.
We held the traditional FEJS auction. National delegations brought something unique to their country and "sold" the items to other delegations in order to raise money for FEJS's Solidarity Fund.