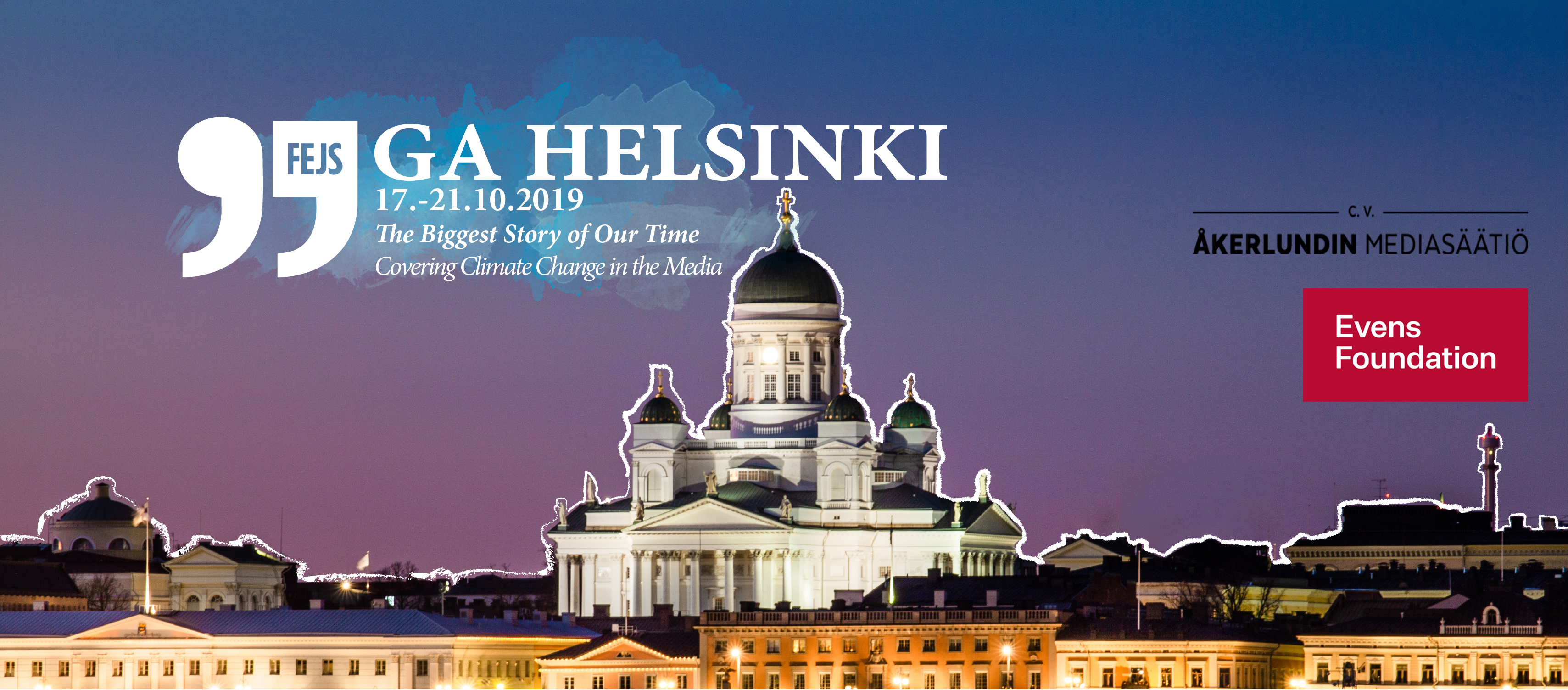 We are happy to invite you to the FEJS General Assembly 2019. The GA will take place in Helsinki Finland from 17th to 21st of October.
Location
Helsinki, the capital of Finland, is the northernmost capital within the European Union. The city is known for its jugend and contemporary architecture, design district packed with top Nordic design and many public saunas. With over a hundred kilometres of shoreline and 300 islands in its archipelago, the sea is a dominant element in Helsinki.
Finland is one of the top countries in the World Press Freedom Index. For six years Finland was number one and has remained among the top countries being second after Norway in the 2019 index.
Topic
Covering Climate Change in the Media. Climate change is a wide topic and it affects almost everything around us. With new studies constantly being published and the world changing rapidly, it is important for journalists to have a comprehensive knowledge of the topic and a wide range of tools at their disposal when reporting on the topic.
The lectures will be held on Pasila campus of Haaga-Helia University of Applied Sciences.
Application
The application deadline has been extended until Friday, August 30th. You can apply using this link. The participation fee for the event is 150 euros, which covers food, accommodation and all the activities in the program. Your travel expenses will not be covered by this fee. You can find more information about the participation fee and solidary fund you can find in the invitation letter.
FEJS GA Helsinki Invitation Letter
Contact
If you have any questions regarding the event, location or travels, members of the Organizing Committee (Eveliina Aarnos, Jannika Melkko and Vilma Timonen) can provide you with this information The OC can be contacted via email at gahelsinki2019@gmail.com. If you have any questions regarding payment, the solidarity fund, your application or participation, do not hesitate to contact the Secretariat of FEJS International at fejssec@gmail.com. With urgent questions please contact Maja Pavlin directly at pavlinmaja14@gmail.com. With general questions about FEJS please contact the Executive Board of FEJS International at eb@fejsint.org.
Funders
For the GA we have received two grants, one from Finnish C. V. Åkerlund Foundation and one from European Evens Foundation.
C. V. Åkerlund Foundation actively supports the development of expertise and education in the field of media. Its fundamental mission is to fund master's theses, study trips, courses ad research projects. The foundation disburses hundreds of thousands of euros as grants and scholarships annually.
Evens Foundation aims to contribute to rethinking and building a European reality committed to the values of diversity, freedom, responsibility and solidarity. As part of this mission, the foundation initiates and supports projects that empower journalists and media as key drivers for democratic, sustainable and peaceful development. They promote ethical, quality journalism as well as journalistic involvement in creating critical media and media recipients.