We publish a report about the Lecture by Marta Cerava during GA in Riga 2016.
New Latvian public broadcasting website offers fresh alternatives to the mundane scene
By Sofia Brontvein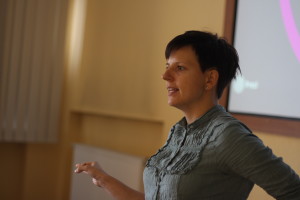 What do we usually think of when it comes to a discussion about public broadcasting? Unforgettably and awfully boring. But Latvian public broadcasting company LSM proves that we are completely wrong.
Marta Cerava nowadays is founder and editor in chief of digital outlet lsm.lv. She started as a newspaper freelance, continued being news agency reporter, used to work as a radio correspondent and producer and ended up in public broadcasting.
There are not so many public broadcasting companies in Latvia. Speaking about TV and radio you can observe only Latvia's television and Latvia's radio. Speaking about digital outlets the main ones are TV.net, Apollo and Delfi.
Starting LSM,Cerava had to fight with giants like Delfi and Apollo, which have already had around 1 million viewers and represent the two biggest Latvian news outlets on the web. LSM.lv which was set up in 2012 has around 300,000 monthly viewers now.
What kind of content does the website offer? The first thing Cerava decided about LSM: "We must find new forms of storytelling, new methods of information representation, we must do experiments using brand new visual effects and tools." The second guideline: no boobs or celebrity news.
LSM tries to concentrate on important internal and external political and economical news, representing it in new interactive ways. Nevertheless, they still publish cultural, sport and entertaining content.
Cerava has her own motto, which she keeps repeating: «You have to be different». Not a very new approach, as most news start ups fail to be fresh and alternative. But Cerava proves that LSM can do better. With a video which has been created by the LSM for the Latvian Independence day: A small topless white comic girl dances with an enormous black man, who swirls her in a dance tightening into darkness. We see that girl is growing up and becoming an independent woman who does not trust this man any more. And finally she grabs this dark stranger and raises him above her head holding strongly and totally controlling. She overcomes her weakness and defeats the man. This growing up girl is Latvia. And the dark man illustrates all the difficulties and obstacles Latvia faced on its way to independence.
The Independence Day or Day of Freedom is the most important and significant holiday for Latvians. Latvia used to be occupied for centuries, starting from XIII century and up to 1991 with only small period of independence during 1919-1941. Germany, Poland and the Soviet Union alternated each other controlling the territory of Latvia, building walls between citizens and holding them back.
This video became very popular and even was illegally published by other very popular internet channels. Its very unusual way of congratulating citizens for a traditional holiday shows what LSM.lv differs from other channels.
Furthermore the LSM editorial office creates colorful info graphics about various political issues, posters (using wordplays changing movie titles as "If life was a movie"), graphic comics presenting some researches or new laws and governmental decisions. Also LSM practices fact checking, which is becoming more and more popular all over Europe.
The main credo for Marta Cerava in particular and LSM in general contains of three elements: solve problems, connect with public (being interactive), differ from others. And they are coping completely well with all these tasks impressing media consumers everyday with modern creative content.